Sunday, June 8 at 1:00pm
Join us in the Gallery for Vermont author
Katharine Britton
discussing her two novels,
Little Island
and
Her Sister's Shadow
.
Sunday, June 22, 10am to 3pm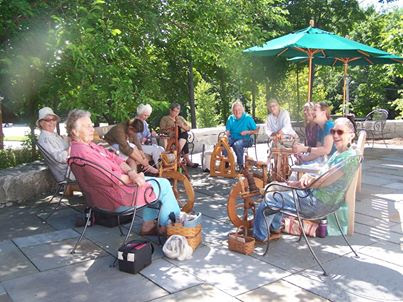 Summer Spin and Picnic in the Park
The NH Spinners and Dyers Guild present a day of Spinning in the Jim Mitchell Community Park - spin, watch, learn, play, eat!
Saturday, June 28 at 2pm
Rebuilding Our Economy and Restoring Our Democracy
Join the first speaker in this series, US Senator for Vermont,
Bernie Sanders
.
Bernie Sanders was elected to the U.S. Senate in 2006 after serving 16 years in the House of Representatives. He is the longest serving independent member of Congress in American history. He is also the author of
The Speech: a Historic Filibuster on Corporate Greed and the Decline of Our Middle Class
and the autobiographical
Outsider in the House
.
Sunday, June 29 at 2pm
Adi Rule
, NH native and author of the newest popular Young Adult novel,
Strange Sweet Song
.
"Boarding school drama and
paranormal romance collide
in this promising debut...
Compelling." - Kirkus
Sunday, July 13, 8-9am
Sunday Meditation Group begins.
We all need to slow down, breathe,
listen to the small voice inside and be still.
Melissa Laverack is a certified MBSR teacher and Quaker seeking to share her practice with neighbors. Melissa will be happy to facilitate, and is open to others stepping in to keep the energy moving.
Today
Today I'm flying low and I'm
not saying a word
I'm letting all the voodoos of ambition sleep.
The world goes on as it must,
the bees in the garden rumbling a little,
the fish leaping, the gnats getting eaten.
And so forth.
But I'm taking the day off.
Quiet as a feather.
I hardly move though really I'm traveling
a terrific distance. Stillness. One of the doors
into the temple. ~ Mary Oliver ~
For more info:
MainStreet BookEnds of Warner
16 East Main Street
Warner, NH 03278
Open Every Day ~

9 am to 6 pm
~